08/11/2020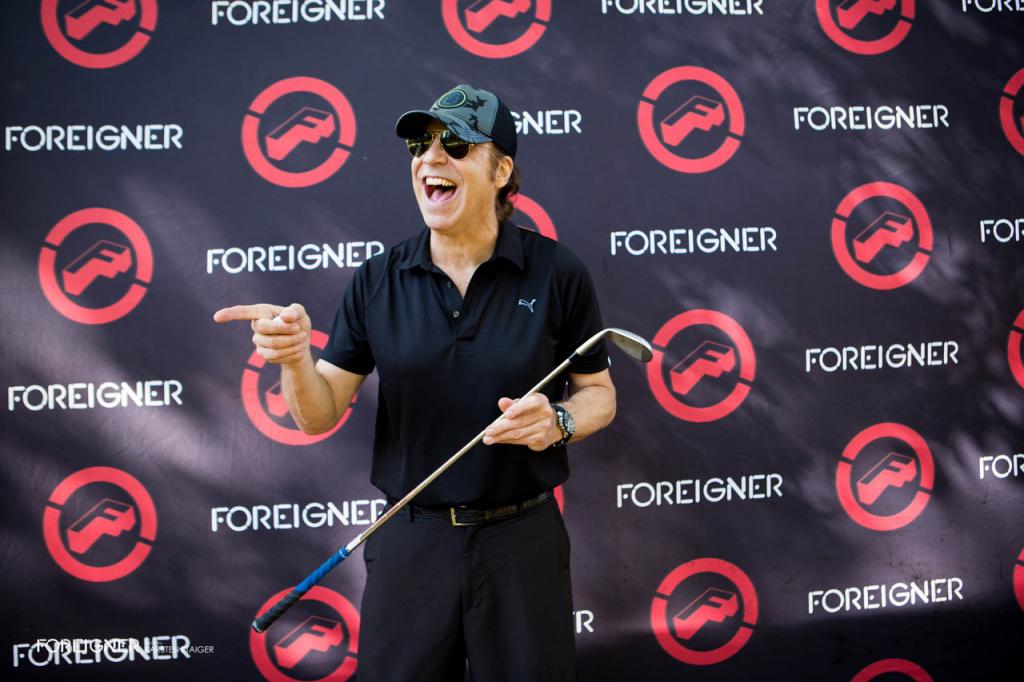 Want to win a pair of VIP tickets to meet us on tour AND support a great cause? Tom Gimbel will also give you a putting lesson on our backstage putting green! Bid now on @Charitybuzz and support @MusiCares, which provides a safety net of critical assistance for music people in times of need.
https://bit.ly/3jYmRu6
07/01/2020
Join Foreigner's Jeff Pilson as he teaches an online interactive Masterclass through the Rock and Roll Fantasy Camp on Friday, July 10, 8 PM Eastern (5 Pacific). Chat and interact LIVE with Jeff as he shares stories, tips, bass techniques and knowledge from his years of experience performing, songwriting, producing and recording. Go to
RockCamp.com
for tickets. Be there!!!!!
06/03/2020
To all our friends, Foreigner is disappointed to share the inevitable news that due to the Coronavirus, we have had to postpone all our 2020 European shows. Mick Jones had this to say: "We were very much hoping to see all of you this summer. We are grateful that so many of you had purchased tickets and we were looking forward to the tour as much as you were. We will get through this together and can't wait to be with you all again at our 2021 shows".
05/19/2020
To all our friends, Foreigner is disappointed to share the inevitable news that our Juke Box Heroes 2020 tour will no longer be taking place. Mick Jones had this to say: "We were very much looking forward to seeing you all at what promised to be a memorable evening of classic rock hits with Kansas and Europe this summer. We are grateful that so many of you had purchased tickets and we were looking forward to the tour as much as you were. We will get through this together and can't wait to see you al
04/14/2020
Each week join us, Foreigner's Michael Bluestein and Bruce Watson, as we'll be bringing our V.I.B to you under a self-imposed isolation from within our homes. Here's all you need to know: We'll be having some guests, playing some tunes, and reviewing some of our favorite hops-based beverages. Watch Episode 1 & 2 now!
Subscribe
03/23/2020
Unfortunately the forthcoming Whitesnake / Foreigner / Europe U.K. tour due May – June 2020 has been cancelled. Ticket holders will be contacted by their point of purchase in due course. David Coverdale said "Once again it breaks my heart to be the bearer of even more sad news affecting Whitesnake's touring schedule for this increasingly challenging year, 2020. All tours, Europe, UK & US, are being cancelled owing to health issues, related specifically to a bilateral inguinal hernia requiring m
02/27/2020
Foreigner's lead singer, Kelly Hansen will join the panel on a brand new episode of MTV's Ridiculousness TONIGHT, February 27th at 10/9c! Ridiculousness is an American comedy clip show hosted by Rob Dyrdek and co-hosted by Sterling "Steelo" Brim and Chanel West Coast. Ridiculousness shows various viral videos from the Internet, usually involving failed do-it-yourself attempts at stunts, to which Rob and his panelists add mock commentary. WATCH NOW! In case you missed it, watch Foreigner's Kelly Hansen R
12/13/2019
On the 10 Year Anniversary of monumental FOREIGNER album Can't Slow Down, the band is celebrating by re-releasing one of the album's standout tracks, "In Pieces." The first studio album by FOREIGNER after Mick Jones reformed the band with lead singer Kelly Hansen at the helm on vocals, 2009's Can't Slow Down entered the Billboard chart in the Top 30, driven by two Top 20 radio singles "In Pieces," and "When It Comes To Love." "In Pieces," a longtime Jones favorite, will now be availabl
12/12/2019
Mick Jones sat down with legendary journalist Bob Lefsetz for an in-depth retrospective. Our super fans will love this one full of never before discussed tidbits. Take a listen!
09/24/2019
Now, 'Foreigner - Double Vision: Then And Now' takes viewers behind the scenes as original band members join Mick Jones and Foreigner's current lineup for the very first time in the band's 40- year history. Both incarnations of the band share the same stage for an epic performance. Watch rock and roll history with one of music's most anticipated reunion
https://Foreigner.lnk.to/DoubleVision-ThenAndNow
08/12/2019
The first episode features Foreigner founder, songwriter and guitarist Mick Jones, who shares anecdotes about spending time with The Beatles in France just before the band embarked on its landmark tour of America. Jones is joined by Foreigner vocalist Kelly Hansen, who discusses singing "I Can See Clearly Now" with reggae pioneer Johnny Nash.
08/05/2019
We're gearing up to put together the first Foreigner tour book in many years and we're asking you, our most loyal fans, for help. We'd like to feature an assortment of memorabilia spanning the band's career in the tour book and are seeking high res scans of Foreigner memorabilia circa 1977 to the present. If your item is selected, we are offering Tickets and Meet & Greet passes for two to any show of your choice, as well as a credit in the program, and a personalized autographed program.
08/01/2019
LAS VEGAS (August 1, 2019) – FOREIGNER will be taking over the Las Vegas Strip in 2020 with their exclusive headlining residency show at The Venetian Theatre inside The Venetian® Resort Las Vegas beginning Friday, Jan. 24. Tickets starting at $49.95, plus applicable fees, go on sale to the general public beginning Friday, Aug. 9 at 10 a.m. PT. VIP packages including front row experiences and meet and greets will also be available. Tickets will be available for purchase at Ticketmaster.com, venetian.com,
07/19/2019
PERFORMERS Nashville Symphony | Ernst van Tiel, conductor | Foreigner | Founding member Mick Jones leads his bandmates and the Nashville Symphony through a string of hits including "Cold as Ice," "Waiting for a Girl Like You," "Feels Like the First Time," "Double Vision," "Urgent," "Juke Box Hero" and the global smash "I Want to Know What Love Is," complete with a live chorus. Be there as one of rock music's biggest bands makes their American orchestral debut at Schermerhor
07/15/2019
Double Vision Then and Now, the concert event featuring the original lineup of Foreigner along side the current lineup, will have its World Premiere on Friday, July 19th at 8pm ET/PT on DirectTV 4K Ultra HD U-Verse. The impressive Foreigner reunion show is scheduled for an album and video release in October and will include exclusive bonus material.